| | |
| --- | --- |
| | Tributes |
| 1949 | 1961 | 1982 | 1989 | 2008 | 2010 | 2011 |
MAY 3, 2011

Reading of the texts of Emile RIPERT by the pupils of the 5th grade of the Saint-Bruno College LA
Marseille ROOM.

An unforgettable moment at the Notre-Dame-de-la-Garde chapel in La Ciotat.

Acknowledgments from students
PDF file

RELEASED FEBRUARY 2011

Emile Ripert Sings Provence
A BOOK + A CD tribute to the poet Emile RIPERT

Read and listen to those who paid homage to Emile Ripert during a reading evening organized in Paris, at La Cave à Poème, on March 1, 2010.

Public price: € 18.00 + shipping costs
to be ordered on the site: http://sites.google.com/site/emileripert/commander
When I discovered Emile Ripert, the man and his poetry, I felt great emotion, and have never ceased to pay homage to him, homage to a limpid and humanist poet.

Jean-Francois Marsat-Subrini

~~~~~~~~~~~~~~

… A big thank you also to Véronique Ripert, granddaughter of the poet, without whom this evening of March 1, 2010 could not have seen the light of day. When you have this book in hand, you will take Le train bleu which will take you to Le Golfe d'Amour and La Terre des Lauriers, the Provence so dear to Emile Ripert.

Gerard Trougnou
http://www.cave-a-poemes.org

~~~~~~~~~~~~~~

This anthology, consisting of a biography of Jean-François Marsat-Subrini, brings together the poems that were said during this evening, and groups them by collection from which they are extracted, and each chapter of which takes up the original cover and the context in which they were written. It is accompanied by an audio CD on which we can hear and rehear the speakers
say the poems of Emile Ripert, as well as the music and songs performed during the evening, on the piano and on the psaltery.

Lucie Edouard
http://sites.google.com/site/emileripert

Emile Ripert sings Provence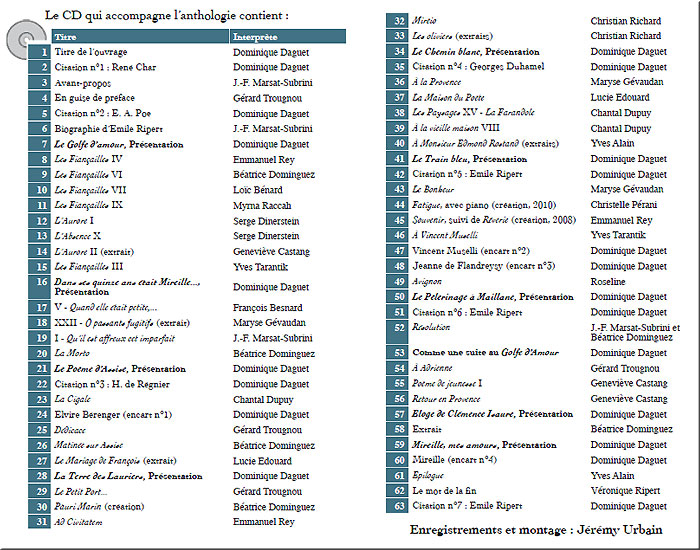 AD CIVITATEM

If I am allowed to finally talk about myself,
If I can punctuate like a point of azure
From the name of my country the end of my poem,

City, I will evoke your roofs, your pure gulf,
Your church, your port, your fishermen, your tartanes,
Your dry fields, where some old wall is still crumbling;

Your fountains, in summer, under serious plane trees,
Where drop by drop seems to flow the whole sky,
Your daughters putting bright tarlatans in it;

Your pines with their sweet and torrential noise,
Your July gardens with their oleanders,
Your September figs with their honey taste …

Your love is dearer to me than the apotheosis;
City of my first and clearest years,
You are sweet to me beyond the sweetest of things.

…
Heritage Days
September 20 and 21, 2008

Tribute to Emile Ripert
1882-1948

Romain Rolland municipal library
BP 155 13701 LA CIOTAT CEDEX
Phone: 04 42 08 44 55 Fax: 04 42 71 54 18


Romain Rolland municipal library
Emmanuelle CHEMSI
Exhibition manager Emile Ripert
e.chemsi@mairie-laciotat.fr

When I come back after exhausting work
Open my tired eyes to your marine light,
I see the days gone by, I see the absent eyes …

Deep voices, I listened to your holy doctrine;
Warm dresses, I was sitting on your knees;
Soft shadows, my forehead touched your chest.

Now near the waves, which roll their pebbles,

Your silent steps walk to my right;
It's you, that dust, and tonight, it's you!

The wind brushes me with its hot or sweaty hand;

How many days gone by, city, still float
On your places, your docks, on your narrow sweetness!

As for my young forehead trembled golden dreams,

It is in you that I saw pass the unique Love,
And I followed his footsteps that led to my fate.

Every time life, alas! was unfair to me,
My city, it's in you that my mouth has kissed
The beautiful peace front with the white tunic.

Was it not for me alone that your harbor was dug?

I left there long ago, I will fold my sails there;
I come back a little weary, but not disillusioned.

So see what flutters in the hollow of the rough canvases! …

Don't say, "Your nets are empty. What are you doing "
My sails in their folds bring back stars.

Look: it is Love, it is Faith, it is Virtue …
This one that will open tomorrow is Glory …
Was my labor holy, patient and stubborn?

Despite yesterday's ills and despite the black wave,
Who must one day roll over my eyes, it will take,
My city, let my name live your history.

Your ardor nourishes me, your breath inspired me;
When I left your port I met the road
Which leads to the ground which the Spirit illustrated.

When we see you from afar on the shore, we doubt
If the great wind that comes from the Neapolitan shores,
Ville, one night towards us did not push you all.

The noble love of the Latin name and country,
It was you who poured it on my first fevers;
Everything your kindness has promised me, you keep.

Now I have put the bells of your goats in my worms,
The rumor of your waves, the voice of your mistral;
Leave on your beautiful forehead that I put my lips,

Latin town on the edge of a Provencal gulf …

La Ciotat, October 1907-Octrobre 1911
poem from the collection "La terre des lauriers" 1912

| | |
| --- | --- |
| | |

In 1949, his bust was made to commemorate his memory. It will remain in the garden of the City of La Ciotat until 1997.

Commentary by journalist Benjamin at the unveiling of the bust

When all noise had ceased, when the crowd had been taken over by its pleasures, or by its tasks, we returned to the cool garden of the city to pay in our turn a somewhat more intimate homage to the poet who had the incredible fortune " to be a poet in his country "He was now all alone in the great green setting. On his marble lip, a smile emerged, a smile of kindness, of indulgence, a satisfied smile also from the traveler who arrived at the stage: "My God, we are well here! "Until nightfall, we conversed …
… The bust of Emile Ripert is much less the work of a friend who, having understood his friend, loved him wonderfully. It is disturbing that clay first and then marble can, when it is the heart that models or chisels them, materialize a soul. Because it is the very soul of Emile Ripert which wanders, visible to whoever wants to see it, around the bust where Paul Gondard has placed, in addition to a very great talent, the sanctity of pure friendship. The poet's thought "reads there as on the pages of a book And of a book as beautiful as the three months of summer. "


Emile RIPERT
1882-1948
Sculpture Paul GONDARD – 1949
| | | |
| --- | --- | --- |
| Benjamin. | | The municipality will then ask his family to take back the bust because, she said, it had been knocked down from its plinth. |
| | |
| --- | --- |
| It was during the year of his bust that the municipality of La Ciotat gave its name to the avenue near its bastide in order to honor his memory. | |

…………………….
……………………

In 1982 the municipality of La Ciotat commemorated the centenary of his birth by affixing a plaque on the street that bears his name, right next to the Salis school.

So his last wish came true.

Yes, give me a little street
If you want, but with a lot of children,
And that my name of their increased cohort
Make triumphant throats vibrate

| | |
| --- | --- |
| Émile Ripert and his book THE POEM OF ASSISI were chosen by Isabella Sbraletta, Italian student, to defend her thesis at the Faculty of Letter and Philosophy, during the academic year 1988-1989. | |
She received the congratulations of the jury and the highest mark that can be had.