Speaker
| FRANCE | EUROPE | AFRICA | AMERICA |
Émile RIPERT

1882-1948

From 1920 Emile RIPERT brilliantly occupies the chair of professor of literature and the Provençal language at the Faculty of Letters of Aix en Provence.

From 1921, his erudition led him to give lectures on countless subjects which marked the history of Provence Mistral, Aubanel, Charloun Rieu, Henry Fabre, Father Xavier de Fourvières, Roumanille, Jules Charles Roux, Folco de Baroncelli, Alphonse Daudet, Edmond Rostand. All these prominent figures of Provençal literature have been the subject of very detailed studies in which he probes all the facets of their character.
The poet coupled with his erudition succeeds in making him escape any professional distortion. "In fact, I cannot separate my two activities, having found a way to reconcile them in the spirit of Provençal literature which has always been for me a source of poetic inspiration as well as an object of scholarship. "
So he decides to bring the glory and the charm of literature and the Provençal language during an uninterrupted series of conferences in the regions of France, then in Italy, Germany, Spain, Romania, Grand Duchy of Luxembourg, England , Monaco, America, Egypt….


1932 – Émile RIPERT
on the roads of Provence

opposite,
the map
"newspaper"
Emile RIPERT in France,
a click on the city to read the article.
The absent lecturer, anecdote taken from the article "Émile RIPERT: de la Poésie au Théâtre (2)" by Georges Sicard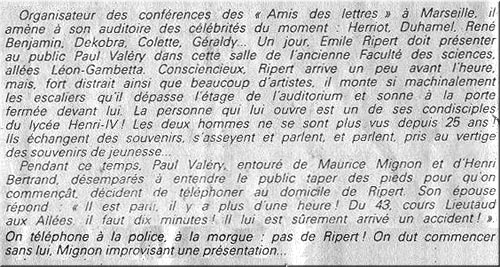 In addition to public lectures,
Émile RIPERT writes in the press: